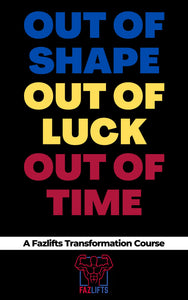 Fazlifts
Out Of Shape, Out Of Luck, Out Of Time: A Fazlifts Transformation Course
Regular price
$20.00
$0.00
Unit price
per
Tax included.
Fazlifts presents to you a radical departure from the usual progressive overload at all costs, calorie counting, lifting over everything paradigm. This might be exactly the change you need.

All aspects of training, diet and cardio are pulled together for a transformation guide which aims to improve your work capacity, muscle mass and reduce your bodyfat in 3 to 6 months.
Included in this purchase is a downloadable eBook PDF.
---